OPENING OCTOBER 27TH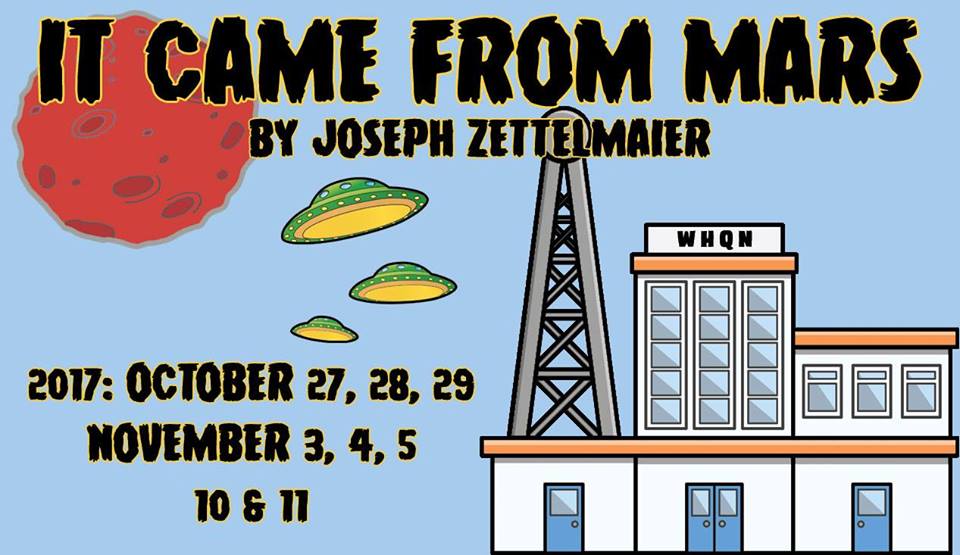 October 30, 1938. The members of Farlowe's Mystery Theatre Hour are in rehearsal for their weekly radio show when they hear an alarming announcement come over the radio - Martians have landed! The actors fly into hysterics, barricading themselves in the studio, not expecting to live to see the next day. Passions ignite, secret identities are revealed and slapstick mayhem ensues when a washed-up director, his drama queen Ex, a wanna-be war hero, a ditzy actress, and a German sound effects wiz all think they are about to annihilated by men from Mars. Honesty and hilarity erupt as truth and loyalty square off against fear and paranoia.

Directed by Claudia Scott
Featuring: Eric Goldstein, Cindi Moll, Danny Croft, Larry Rink, Allison Megroet & AnnMarie Payne

Friday, Oct 27th 8pm
Saturday, Oct 28th 8pm
Sunday, Oct 29th 2pm
Friday, Nov 3rd 8pm
Saturday, Nov 4th 8pm
Sunday, Nov 5th 2pm
Friday, Nov 10th 8pm
Saturday, Nov 11th 8pm

Tickets are available at the online box office. Ticket reservations can be made by calling 313.532.4010 or emailing rcptickets@gmail.com.